Award: Retail Design
Trower Falvo Architects with Alessio Fini for Postal Hall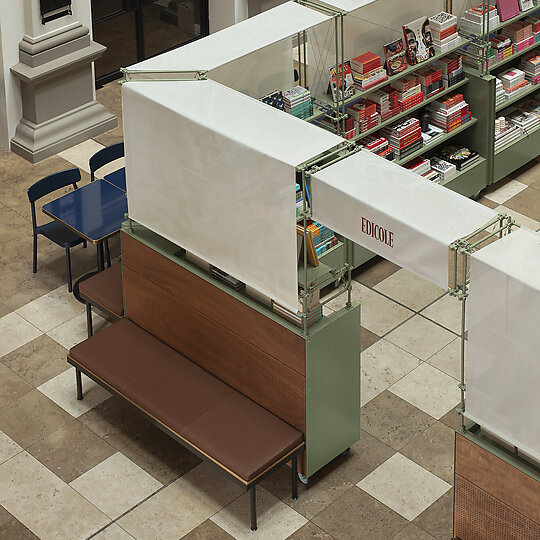 The Postal Hall is the grand space at the heart of Perth's State Buildings complex.

Informed by 'kite' componentry, our design comprises a centralised, demountable bookshop.

Its construction and expression suggest permanence and temporality; a bookshop conceived as a central hub, grounded in the public realm.
Jury Citation
Postal Hall is an installation within a heritage context that is very well done, particularly because it's vulnerable in how its viewed from all angles, including from above. The jury was impressed by its sustainability contribution, in being a demountable project that can easily be picked up, stored or relocated. Its minimal elements and refined elegant detailing make it punch above its weight, allowing both internal and external spaces to work well. The added fabric sails create a nice edge condition for seating within the public space and innovatively open up multiple choices for how people use the project, from perusing the retail offering to relaxing on the outer edge. It is sensitive to its context and sits seamlessly amongst the precinct's other retail offerings.