Award: Interior Design Impact
YSG Studio for Edition Roasters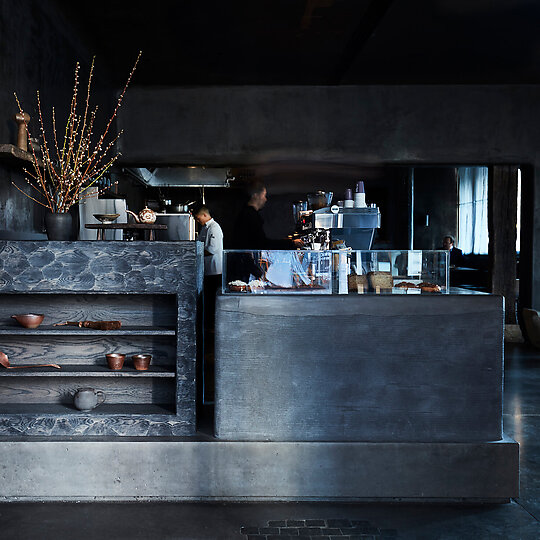 This humble 110sqm cafe emanates traditional Japanese rural life, existing in stark contrast to the modernism which surrounds it. The highly textured yet all-black palette, sits delicately upon a sculptural organic interior,
creating an instantly familiar space for patrons' thoughts to think back on simpler times.
Jury Citation
Edition Roasters received the Impact Award from Jury Chairs Madeleine Blanchfield and Scott Walker because the project embodies the essence of good design. Located in Sydney's Haymarket and originally designed in 2018, the hospitality project's seed was sown during a conversation over morning coffee that soon saw the designer creating several spaces for her client, who fully engaged with the design response and advocated for its design agenda. Although the business is no longer with the original owner, the relationship between client and designer remains strong, and this change in ownership exhibits the design's ability to evolve, revealing versatility and sustainability.
The design itself appears simple and was relatively low budget. However, it makes deft moves to bring texture, character and ambience to an otherwise basic shell. Materials cater to the 'rigours of time' by enabling customers to engage with the robust nature of the design, thus adding to the patina of the space. While the rich, multi-layered interior brings a feeling of intimacy to an urban area where this was previously lacking.
Importantly, the design also responds to the functional demands of the space, catering to its Japanese-based food offering. Edition Roasters is quite simply a beautiful canvas that showcases the food and references Japanese culture and historic places in a way that is tangible without being mere pastiche. The design has fed into the brand and the success of the business and has also supported a strong sense of community. It has stood the test of time, which has only improved and deepened its authenticity.