Award: Interior Design Impact
fjmt for Bunjil Place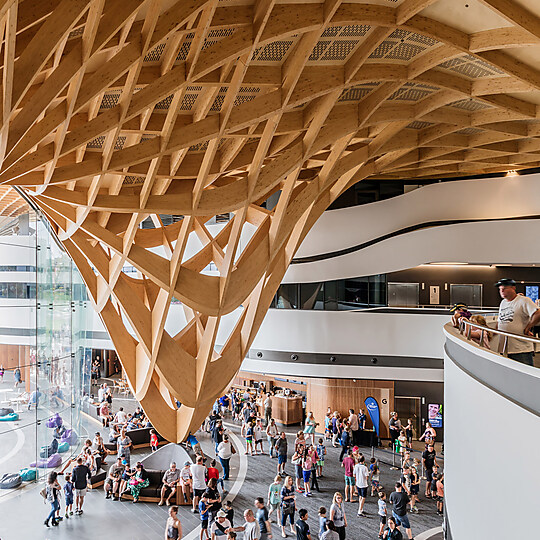 Bunjil Place is an example of a new form of community and civic building. It is not a single use or single facility that tends to divide and separate a community by interest, education or culture, but an inclusive hybrid form of public building, reflecting and embracing our diversity.
Jury Citation
Bunjil Place is a stunning example of genuinely impactful design. The scale of the impact is significant and meaningful. Bunjil Place reaches a large community by providing a sense of place and amenity that was previously absent. This project has created a true civic heart that brings together various functions that benefit the community and staff. It provides a platform for community programming, social interaction and cultural inclusion – it brings the people of Casey together and brings people to the City of Casey.
The success of Bunjil Place is due to a confluence of intelligent and ambitious undertakings by the designers and client that have resulted in a coherent, well-resolved and joyful design.
Co-development and expansion of the brief raised initial expectations and enabled the project to realize its full poten-tial. A generosity of spirit is evident in FJMT's determination to provide authentic world-class facilities for the City of Casey, including an international-standard art gallery and an 850-seat state-of-the-art theatre. The highly functional design caters equally to the needs of international artists and primary school groups.
Genuine engagement with the Indigenous community, from the competition stage and throughout the design process, has strengthened and informed the symbolic design, which integrates the form of Bunjil through the timber ceiling grid.
Planning is intuitive and human-centred. All amenities, including the library, art gallery, theatre, council chambers and offices radiate from the central lobby, maximizing cross-interaction and cross-engagement. The flexible use of spaces – in particular, the Council Chamber's adaptability to a function venue – has provided increased revenue and is a demonstrably effective use of rate payers' money.
Bunjil Place has proven transformative to a community through increased local patronage to the arts and literature, new job creation, education and access to the arts, and local access to world-class performances and exhibitions. This project has changed lives positively and will continue to do so for future generations.