Award: Interior Design Impact
Russell & George for Space & Time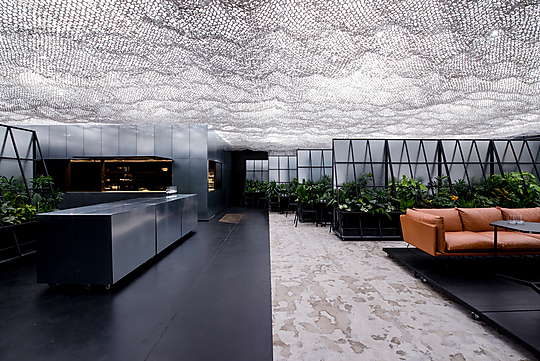 This project was designed to change the way we think about space. Using custom components, the interior morphs into different spatial types depending on the time of day - restaurant, cafe, gallery, showroom, office, function venue, workspace. It crosses all categories.
Jury Citation
Russell & George has used the design of its workspace to liberate its own business, with opportunities to reinvent the process of design across our profession.
The impact of this project cannot be appreciated from the photographs alone; it resides in understanding that Space & Time is a spatial and organizational representation of a first-principles rethink of how a practice can be imagined. As design entrepreneurs, the team has taken risks to progress their own process of design, with potentially far-reaching impacts for the broader profession and how we work.
The highly adaptable workspace equally supports the team, enables prototyping and small-scale manufacture in the workshop and, importantly, provides space to host events. Two to three events per month provide sufficient income to cover business costs. This gives the team the freedom to be selective in the work they take on, and allows them greater time to research new materials and processes. In turn, this approach has led to significant innovations in how Russell & George designs and delivers projects and products.
In the modernist tradition, Russell & George's work encompasses design and prototyping across architecture, interior design and industrial design. Through its workspace and the subsequent outcomes that evolved from its design and construction, Russell & George is reacting to the aspects of our profession that no longer reflect the modernist tradition: fees and program.
A desire for more time to actually design and provide high-quality, well-detailed spaces and products that are not eroded by so-called "value manage-ment" has lead Russell & George to re-evaluate the traditional methods of design and project delivery. Using the design and construction of its workspace as a prototype, the team used coding to develop a protocol for procurement and documentation. The resulting program automates processes and documentation to preserve important briefing and design time. Initially an in-house process, the program is currently being developed into commercial design software for use by the architecture and design industry.
Space & Time has exceeded its own ambitions. It is strongly evident that the organizational model that the design supports has not only transformed Russell & George, but offers some valuable and potentially cathartic innovations to the rest of our profession. Watch this Space (& Time)!