Award: Installation Design
LIMINAL Spaces for The Bleeding Tree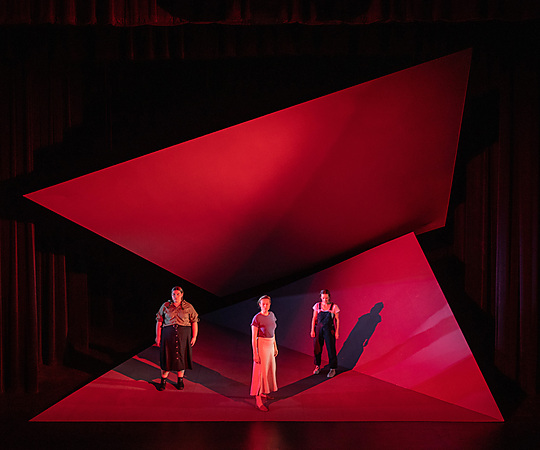 Shifting minimalist form is used to amplify scenes of oppression transitioning to empowerment in a collaborative design that reimagines the acclaimed Australian play. Embodying the conflicting worlds of characters, the simple planar set is constrained, manipulated and expanded as the story moves from one of volatility to empowerment and stability.
Jury Citation
Jury members wholeheartedly agreed that The Bleeding Tree is the clear winner in the Installation Design category. The stage set's stripped-back simplicity demonstrates mastery of form through the use of two planes that visually guide the audience in its emotional response to the performance in front of them. Minimalist lighting and the planes' different compositions also influence the mood on stage for the performers and, more significantly, provides gravitas to the play's theme of violence against women.
In a category that has enormous diversity and scale, this project brings us back to the way interior design can affect emotion and does so with the most minimal of gestures. The use of the two planes is innovative, experimental and powerful, creating a tension through subtle movements. It is an extraordinarily well-considered, bold and graphic resolution.