Award: Hospitality Design
DesignOffice for Higher Ground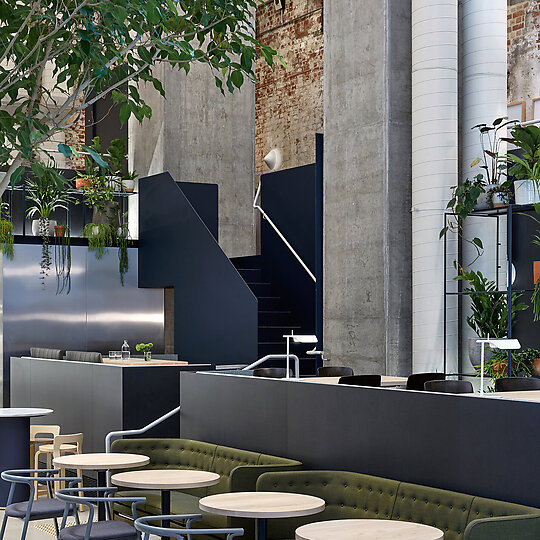 Higher Ground is an all-day hospitality destination at the heart of an evolving city precinct in Melbourne's CBD. The former power station was reimagined to create 6 new connected levels which wrap around the perimeter of the original brick building to create a suite of intimate tiered platforms.
Jury Citation
Higher Ground's design celebrates the amazing volume of what was a former power station in Melbourne's CBD.
To simply describe this project as a sophisticated example of adaptive re-use belies its conceptual and aesthetic rigour. The jury commends its redefining of the typical cafe typology into a high-end hospitality venue, more akin to a hotel lobby than a casual eatery. While the industrial appearance of its former use remains, the expertly integrated services, overall fine detailing and furniture and lighting selection are exemplary.

Intimate niches are created at various platforms across six changes in level throughout this tall interior so patrons can engage in quiet conversation or simply sit and enjoy the expansive internal view. It's clever planning that allows for increased capacity, without jamming the space with tables and chairs. Circulation paths are generous and the general sense of theatre is unexpectedly fun and inviting, making it easy to order just one more coffee. The jury applauds this project for setting a high benchmark in advocating for good design in the hospitality sector, especially in a market as notoriously competitive as Melbourne.